In a major upgrade to the dojo's student systems, Goju Karate has deployed Launchpad's new community software.
Over the years, Goju Karate has operated a number of different legacy systems for managing student class accounting and student records. However, many of these systems were developed using older technologies for another era of computing, and suffered from a series of limitations and required a significant amount of staff time to maintain.
So when Launchpad Software, a new entrant into the industry, approached the dojo with a plan to build the next-generation dojo management system, you can bet everyone at the Front Desk at the dojo was excited!
Launchpad CEO Andrew Montague explained: "Our mission is to take all the major advances in software, design, and cloud computing that have happened in the last few years, and build a modern martial arts dojo management system that leapfrogs everything that is currently in the market."
New Check-in Kiosk
One of the most obvious changes is the new Class Kiosk at the Front Desk that lets students quickly select the classes that they're attending and record their presence to the dojo attendance record.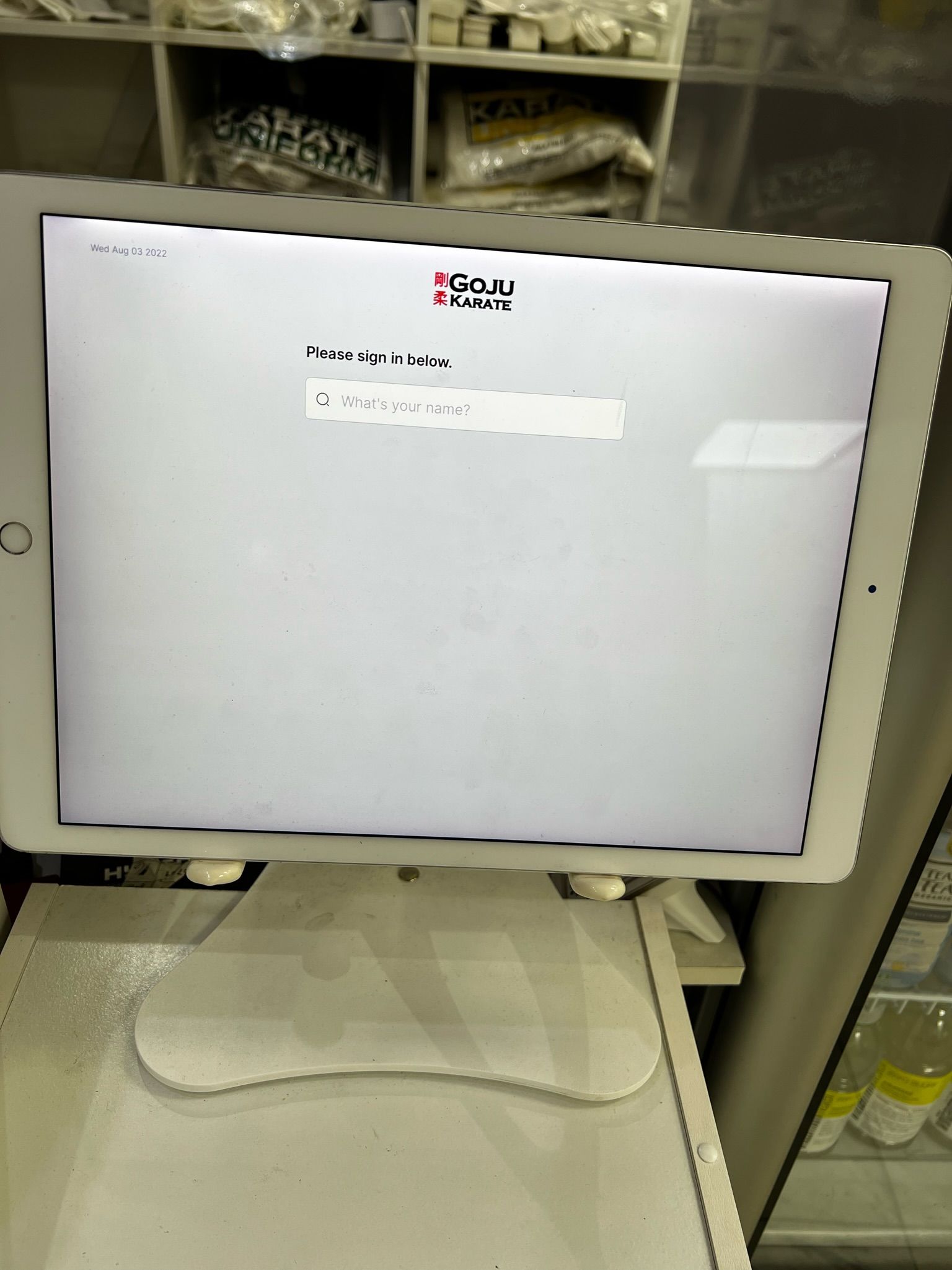 Launchpad's kiosk is easy enough to use that all students are now familiar with it – even our youngest four-year-olds use it to record their classes in preparation for rank testing.
And because the kiosk is tightly integrated with the dojo's new Launchpad-based student management system, attendance is recorded accurately and automatically updated in the main student database.
Launchpad's kiosk is smart enough to pull available classes by division (so adult students are only allowed to check-in to adult division classes, for example) and flexible enough to allow check-in both before and up to an hour after classes have ended.
Front Desk Administration
Behind the front desk, we can now instantly update student records, correct any errors, credit classes, and ensure that students are enrolled in their correct divisions.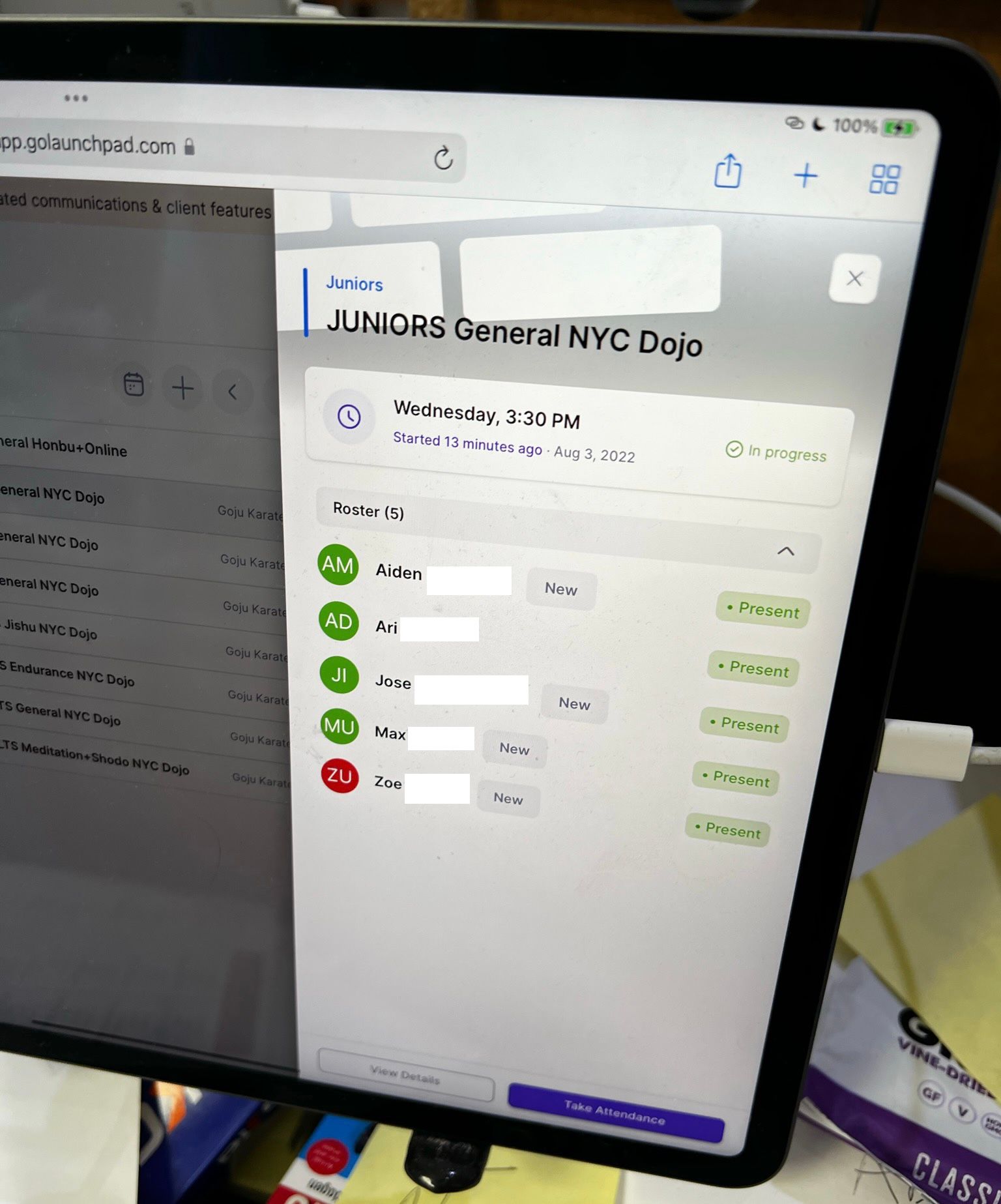 In previous systems, it was very difficult to move students from one division to another: perhaps that's not an issue for Adult students, but for kids moving from Juniors to Youth, as an example, it was frustrating to not be able to record their new classes properly. Now, with Launchpad, that's no longer an issue.
Accurate, Always-Up-To-Date Class Schedule
But probably the best new feature that Launchpad enables is the brand-new TODAY@Goju real-time class schedule on GOJUKARATE.COM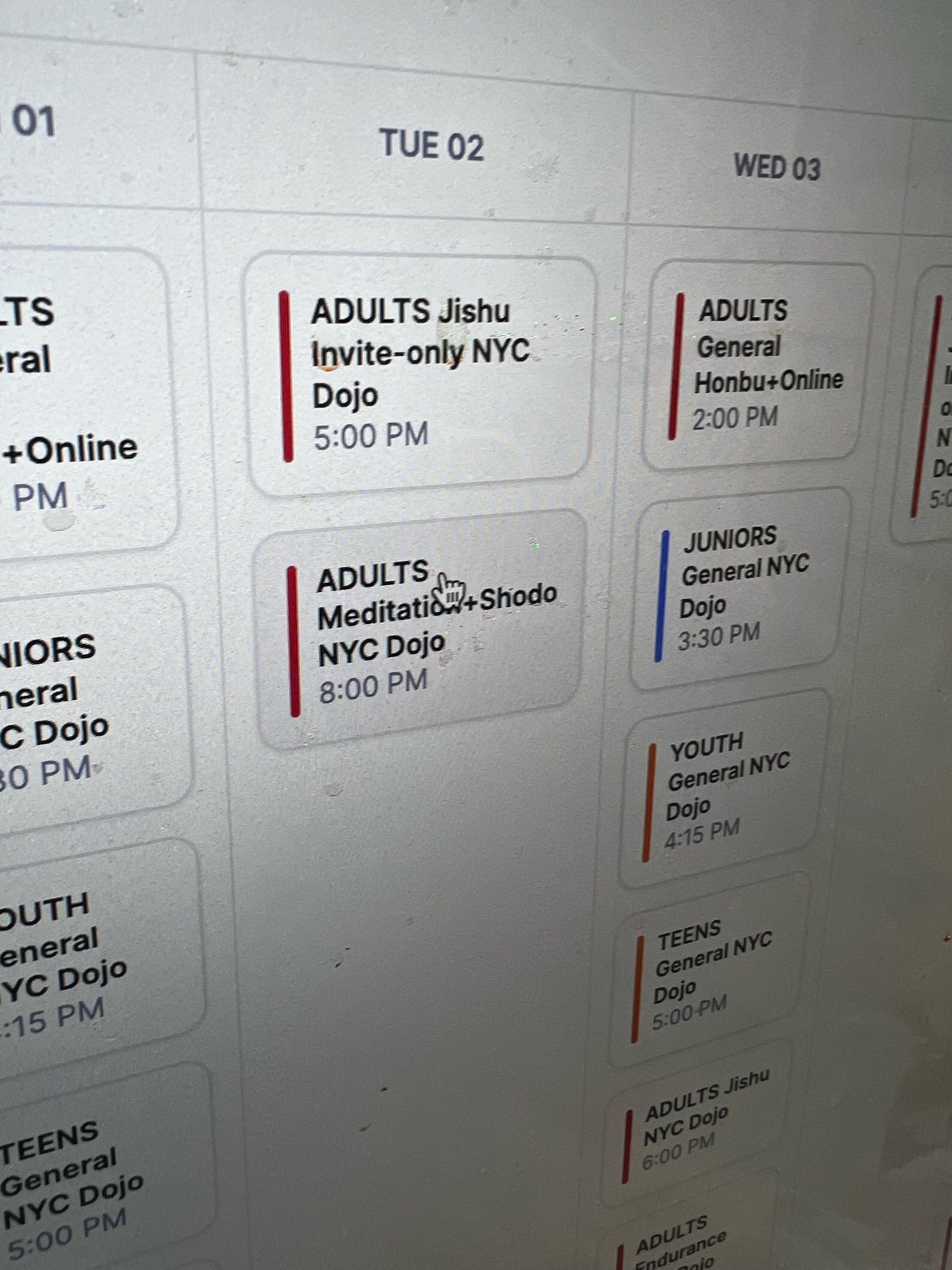 Using Launchpad's class scheduler and calendar, Front Desk staff can update just one calendar and have everything instantly and accurately update across all of our systems: the check-in kiosk; the Front Desk's calendar; and most importantly, the class schedule on GOJUKARATE.COM
Now, students can simply pull out their phone, and check to see what classes are offered at the NYC Dojo, at Honbu, and on livestreams – any day, any time, and constantly and accurately updated.
Coming Soon...
More features are coming in the Autumn, as we integrate our Intro Class Session system into our main Launchpad database, and we roll-out a Class Kiosk for livestream students (you'll be able to check-in from your browser, anywhere!) and much more.
Launchpad is part of our dojo's ren ma – constant improvement. And this particular range of improvements has been a quantum leap forward.